Latest Immigrant News from Across the Country
11/17: AfGJ Statement on the Election of Donald Trump as US President

By Alliance for Global Justice (AFGJ)

We find ourselves today in a worldwide struggle such as we have never seen before. We are not only confronting the destructive nature of neoliberalism and imperialist wars, we are in a race towards the end of the world as we know it with respect to ecological degradation....

By Lee Siu Hin - National Immigrant Solidarity Network

Thereís no doubt, hate and racism won the electron, with president-elect Trump calling to deport millions of immigrants, banning Muslims and building the border wall, U.S. will become fascist state....

11/16: Trump Team Has Plan to Build Wall, Maybe Reinstate Muslim Registry

By Margaret Hartmann Ė NY Magazine

There are a lot of policies that President Trump could enact on day one, but it did not seem like building his beautiful southern border wall was one of them. The U.S. already spent billions to merely fence off about a third of the border, and attempting to construct a concrete wall could cost as much as $25 billion. Even with Republicans in control, thatís not something thatís going to move through Congress swiftly....

11/14: What It Means to Be Black During a Trump Administration

By Kareem Abdul-Jabbar - The Washington Post

oday, African Americans will have to dig pretty deep to find that foundation because thereís not much optimism in sight. Yes, weíre all supposed to come together after an election, let bygones be bygones, and march forward unified as neither Democrats nor Republicans but patriotic Americans celebrating the triumph of the democratic process. But itís difficult to link arms when the home of the free embraces the leadership of a racist....

11/14: Muslims in Trump's America: Fearful but Defiant

By Murtaza Hussain - The Intercept

Over the course of Donald Trumpís electoral campaign, the now president-elect repeatedly promised to turn Muslim Americansí darkest fears into reality. Trump has suggested that under his administration, Muslims may be listed and recorded in a national database, forced to carry special identification cards, and subjected to intensified surveillance in their places of worship. Trump has also suggested that many Muslims could be banned from the United States wholesale, as part of a broader crackdown on immigration....

11/13: University of Michigan student wearing a hijab was threatened with being set on fire, police say

By Kristine Guerra Ė Washington Post

A University of Michigan student was approached by a stranger who threatened to set her on fire with a lighter if she didnít remove her hijab, police said....

11/13: Donald Trump Says He Will Deport up to 3 Million Immigrants 'That Are Criminal'

By Martin Pengelly - Guardian UK

Speaking to 60 Minutes, president-elect says Mexico border wall would partially consist of fencing: ĎIím very good at this. Itís called constructioní....

11/10: Racism Wins Again: The Duopoly at Work

By Steven Jonas - The Greanville Post

Racism, set into the Doctrine of White Supremacy, has been part of the basic fabric of life in that land which eventually became the United States of America since some of the first European settlers imported the first slaves from Africa to work their farms at the beginning of the 17th century....

More Past News..
Please Read!

Fall 2016 Monthly Immigrant News Summary

Fall 2016 U.S. Immigrant Alert! Newsletter

Trump and Racism: Racist, Sexist, Homophobia, Islamophobia, Chnia Bashing Won Again! And Our Lessons

Lee Siu Hin
National Coordinator - National Immigrant Solidarity Network

There's no doubt, hate and racism won the electron, with president-elect Trump calling to deport millions of immigrants, banning Muslims and building the border wall, U.S. will become fascist state.

But that's nothing new—President Bush and Obama had been doing the same: Bush has been attacking Muslims and foreign students, created DHS; Obama has been detained and deported hundreds of thousands of migrants with more detention centers. Trump just continuing their legacy with one big step more--Both Democratic and Republican racist polices share the equal blame.

What we should do next? We need to learned form the election 2016 lessons, don't count on fake progressive of Democratic, continue protest, support verity immigrant movements to build multi-ethnic solidarity movement against racist Trump!

Fall 2016 Monthly Immigrant News Summary

By National Immigrant Solidarity Network
May Day 2016
National Mobilization For Immigrant Workers Rights!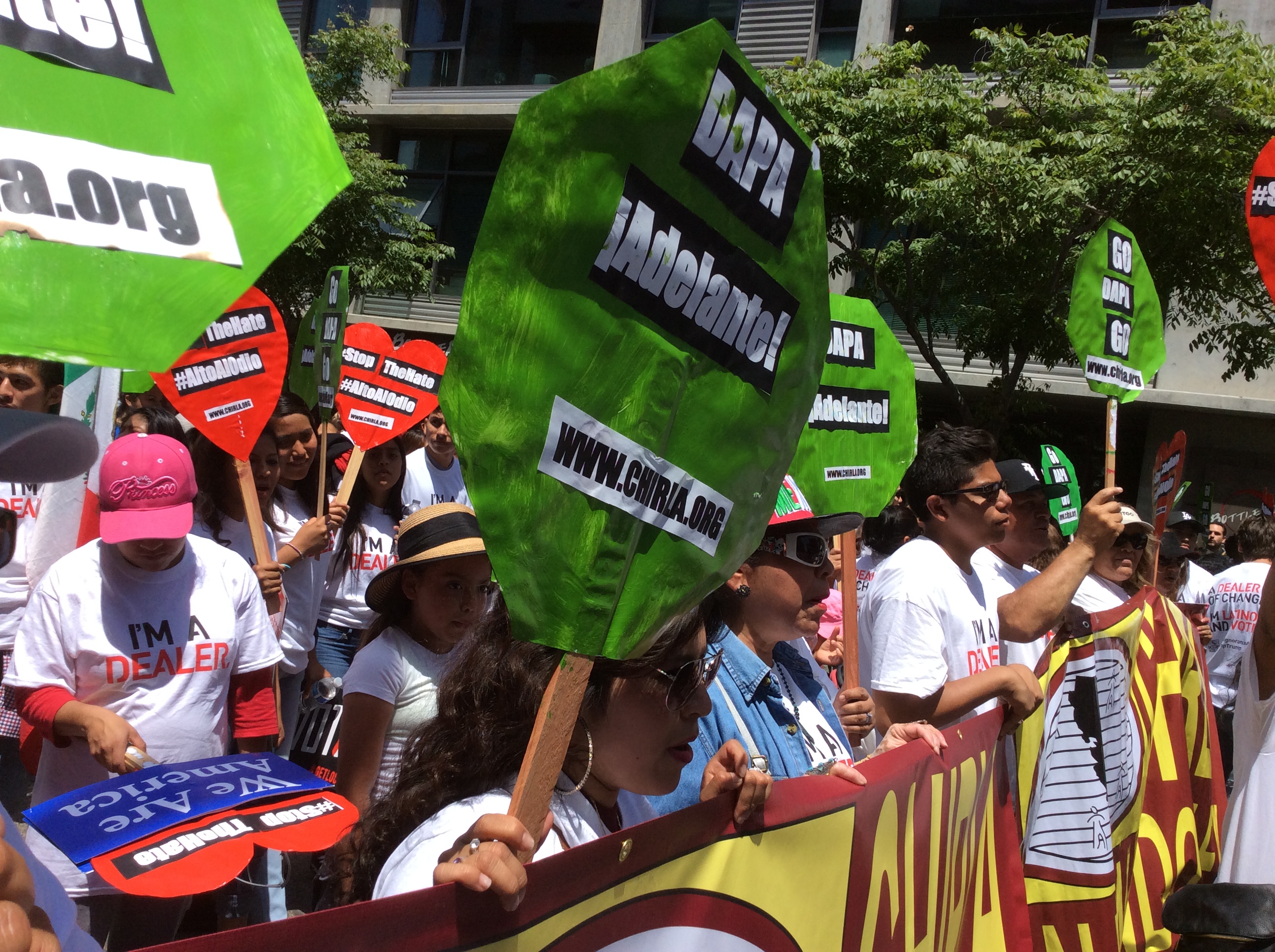 (Los Angeles May Day 2016)
http://www.ImmigrantSolidarity.org/MayDay2016/
National Immigrant Solidarity Network http://www.immigrantsolidarity.org

Lee Siu Hin
National Coordinator - National Immigrant Solidarity Network

Los Angeles, CA
Sunny Southern California May Day 2016, about thousand people organized by LA May Day Coalition participated in a multi-ethnic unity march, include Latinos, African American, Koreans and Chinese-American union members, as well as white activists, to join the march, demand immigrant rights, vote, union and NO to the Trump. Speakers includes: SEIU, Black Life Matters, KIWA, CARCEN, CHIRLA and so on. It was a powerful day!

Full report with photos: http://www.ImmigrantSolidarity.org/MayDay2016/

Past May Day Actions

May Day 2013

http://www.ImmigrantSolidarity.org/MayDay2013/

May Day 2010 Reports from Across the Country
May Day 2010 Reports Home Page

Los Angeles, May Day 2010
---
Past and Recent National Immigrant Solidarity Network Campaigns




National Immigrant Solidarity Network
4th National Grassroots Immigrant Strategy Conference
& Immigrant Rights Film Festival

April 10-12, 2009 Chicago, IL
Stop Immigrant Raids! Support Immigrant Workers Rights!
Together We Build A New Immigrant Rights Movement!
Successful Ending! Together We Build A New Immigrant Workers Rights and Justice Movements of 2009!
Conference Report, Campaign Proposals
National Immigrant Solidarity Network (NISN) is a grassroots, broad-based, multiethnic coalition of community, immigrant, labor, human rights and student activist groups, founded in 2002 in response to the urgent needs for the national coalition to fight immigrant bashing, support immigrant rights, no to the sweatshops exploitation and end to the racism on the community! We also actively linking our issues with different struggles: wars in Africa, the Americas, Asia, Iraq, Afghanistan, Palestine & Korea with sweatshops exploitation in Asia as well as in Los Angeles, New York; international arm sales and WTO, FTAA, NAFTA & CAFTA with AIDS, hunger, child labors and child solider; as well as multinational corporations and economic exploitation with racism and poverty at home—in order we can win the struggle together.
Between April 10-12, 2009 on Chicago, IL; over 110 organizers, activists and community members from African American, Native American, African immigrant, European Immigrant, Asian American, Latino/Latina, Arab-Muslim-North African, progressive labor, interfaith, LGBT, student, anti-war/peace and global justice groups from across the country. To meet face-to-face at to discuss how to build a new national, broad-based, immigrant rights/civil rights movement, and to set our 2009-2010 national grassroots immigrant campaign strategy.
We agrees together we'll focus on building all multi-ethnic, multi-constituent, broad-based grassroots immigrant rights movements run by de-centralized volunteer-based community-rooted immigrant rights activists from youth, workers and community members who can play more active role on campaign formulation and decision making for local coalition building to organize popular education campaigns, such as: campaign to against immigrant dentition, deportation & raids; immigrant labor rights movement; campaign against local anti-immigrant ordinance; comprehensive immigration reform (CIR) and linking the immigrant rights movement with other struggles, such as: anti-war and anti-globalization movements.
We welcomes our new steering committee member Alex Franco from Movement for Unconditional Amnesty, Philadelphia, PA.
We'll also discuss the lessons from the 2008 election and what we should expect from the new President and the Congress affecting immigrant legislation for the next two years.
We acknowledges that different people from different organizations, backgrounds have different believes on how to achieve the justice and better future for the tens of millions of immigrants across the country, and how immigrant rights movements can link to the broader peace and justice movements.
We had agreements, we have difference and even heated debates; after three days conference, at Sunday April 12th based on the feedbacks and proposals submitted to the conference, we had draft our new points of unity and strategic immigrant campaign proposals.
For those didn't able to come, we welcome your feedback and any suggestions of additions/modifications to siuhin@aol.com or info@immigrantsolidarity.org no later then Friday April 24, 2009.
For more information, please visit:
http://www.ImmigrantSolidarity.org/2009Conference/
E-mail: info@ImmigrantSolidarity.org
Phone: (773)942-2268

July 27-29, 2007 NISN National Grassroots Immigrant
Strategy Conference
University of Richmond, Richmond School of Law
Richmond, VA
3-Days conference Ends With Sucessful Adoptions of National Immigrant Solidarity Network 2007 - 2008 Strategic Immigrant Campaign Framework!

Based on the feedback from our members and allies we had formulated our 2007-2008 Strategic Immigrant Campaign Strategy during our July 27-29 National Grassroots Immigrant Strategy Conference in Richmond, VA. This is a non-binding resolution, that will only provide you a menu of suggested actions that can guide and encourage your local organization to discuss and choose which action(s) you would like to focus on in order to organize with us:
>> Read the Full Report and the Call
National Immigrant Solidarity Network Points of Unity
Great Article! (7/29 Richmond-Dispatch) Conference at UR on immigrant solidarity
---
Jan 29, 2007 Washigton D.C. Congressional Lobby
and National Call-In Day for Immigrant Rights
Organized by: National Immigrant Solidarity Network
On Monday, January 29, a group of us, representatives from San Francisco La Raza Legal Centro, National Organization of Women, veterans and I met with Speaker Nancy Pelosi's staff on immigration and present our open letter and exchanges ideas on the immigration issues. In addition, thank you for everyone who had visited and call your representatives at the Call-In day, at dozen states. >> Read the Congressional Lobby Day Report
More Details | More Information About the Open Letter | Endorse the Letter
---
May Day 2006 - We Have Made History!
Ten Millions Across the Country Take to the Streets to Demand Immigrant Rights!
http://www.NoHR4437.org http://www.ImmigrantSolidarity.org
Today was one of the most important days in U.S. history: ten millions of immigrants, activists and allies in over 200 cities from across the country chose to skip work, school, and the normal daily routine to participate in "A Day Without Immigrants." We held a national boycott, general strikes, rallies and symbolic actions in order to demand basic rights for all immigrants, and to build a new multi-ethnic united civil rights movement for the 21st century!