Latest Immigrant News from Across the Country
12/23: US Government Quietly Starts Asking Travelers for Social Media Accounts

By Nadia Prupis-Common Dreams

Controversial program met with opposition from civil liberties groups when first proposed in June....

12/14: Post Election resources from the ILRC

By Angie Junck - Immigrant Legal Resource Center

President-elect Trump's anti-immigrant rhetoric throughout the campaign has immigrant families worrying that they could be targeted, detained, or deported. In order to ensure immigrants are informed, prepared, and protected, the ILRC has released the following resources, and will continue to create and disseminate more like them....

12/10: If You Are For Peace You Are A Russian Agent

By Paul Craig Roberts

Speaking of fake news, the latest issue of the National Enquirer at the supermarket checkout is giving the mainstream presstitute media a run for the money: "Castro's Deathbed Confession: I Killed JFK. How I framed Oswald."....

12/8: LGBT detainees describe harrowing life inside Eloy (2)

By Greg Marzullo - Washington Blade

.... "I had to walk for two nights and two days. We had to get water from where the cows drink. It's dirty. There's cow poop. It was contaminated. At the end, my thighs gave out on me, and I was pulling them with my hands so I could continue walking. We had to pay a lot of money – about $3,000 – to the coyotes."

12/8: LGBT detainees describe harrowing life inside Eloy (1)

By Greg Marzullo - Washington Blade

Moths cover the walls in the claustrophobic antechamber of the Eloy detention center in Eloy, Ariz. The fluttering insects are dark brown, obvious against the stark white cinderblocks where they crawl toward the room's single door....

12/7: Dignity Not Detention Act Re-Introduced in CA!!

By Christina Fialho - Community Initiatives for Visiting Immigrants in Confinement (CIVIC)

It is with great excitement that we announce that Senator Ricardo Lara has re-introduced the Dignity Not Detention Act today in California. Please see our press release below and feel free to share it on social media here. We are confident that the legislature and the Governor will make dignity not detention the law of the land this coming year!

12/3: Trump's Win Gives Stocks in Private Prison Companies a Reprieve

By Jeff Sommer – New York Times

As terrific as Donald J. Trump has been for the stock market, he has been absolutely spectacular for a troubled niche: companies that run for-profit prisons and immigration detention centers for states and the federal government....

12/2: DHS panel raises concerns about privately-run detention centers

By Kevin Johnson - USA TODAY

An influential Department of Homeland Security advisory panel, wary about the controversial use of privately run immigration detention centers, recommended Thursday that reliance on the practice, while immediately necessary, should not represent a permanent solution....

More Past News..
Please Read!
Winter 2016 Monthly Immigrant News Summary
Winter 2016 U.S. Immigrant Alert! Newsletter
Immigrant, Peace and Civil Right Activists NEED United To Fight Back Against Trump!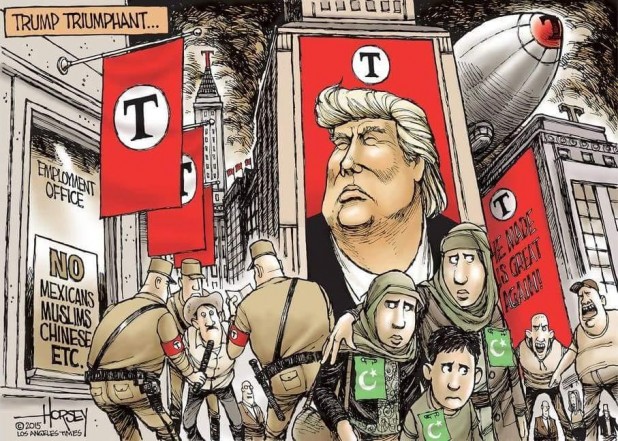 11/22: Trump Has Not 'Softened' His War On Immigrants
We should anticipate that his administration will unleash a deportation regime unprecedented in recent U.S. history
Bob Libal and Judy Greene – Huffington Post
Last week's "60 Minute" interview with president elect Donald Trump prompted headlines suggesting that he might be "softening" his immigration stance, compared to his extreme campaign proposal to deport 11 million undocumented immigrants. The media have it wrong.
Those of us who have worked to promote sensible and humane policies for decades are bracing for what may very well be an all-out war on immigrants of unprecedented scope and intensity.
Some news reports have offered an unjustifiably charitable interpretation of Mr. Trump's recent statement to suggest that he is becoming more "targeted." This view was based on a few short statements where he described vague plans to immediately deport or incarcerate those with "criminal records ― gang members, drug dealers, probably 2 million, it could even be 3 million" that are "here illegally." Mr. Trump's numbers are wrong, and his vision is anything but "soft." In fact, it is terrifying....
Read the article: http://www.immigrantsolidarity.org/cgi-bin/datacgi/database.cgi?file=Issues&report=SingleArticle&ArticleID=1751
Winter2016 Monthly Immigrant News Summary

By National Immigrant Solidarity Network

2017 China Activist Solidarity Delegation
Projects of National Immigrant Solidarity Network (NISN) and Action LA Network
Fiscal sponsorships of Alliance for Global Justice
http://www.ChinaDelegation.org
China has a rich and dynamic cultural, political and revolutionary history. Unfortunately, most Americans know very little beyond what they hear and read in corporate-controlled media. This is mainly due to the ongoing Cold War, and the absence of information on China in U.S. educational curricula. During the 2016 presidential election both Trump and Clinton were highly critical of China. It seems likely that U.S.-China relations will greatly suffer. Can American activists see beyond the finger pointing of the politicians and the American elites?
We hope that you will join our upcoming delegation Beijing and Shanghai. Organized by major U.S.-based activist organization we will explore historic, cultural, social, political and economic aspects of China. Our goal is to help promote a deeper understanding and to realize the importance of U.S.-China relations to the US and the world. We will explore Chinese history including the Opium Wars, anti- imperialist struggles, WWII, and the Chinese Revolution led by the Communist Party. We will be visiting revolutionary museums and meeting with a wide variety of people, including middle-class Chinese, expatriates, NGO workers, officials, activists, workers, farmers, students, scholars, and others. We will be learning about Chinese society, history, culture, economics, and politics.
China: Understand Chinese Society, History, Culture, Economic and Politics (10 Days)

Friday March 24- Sunday April 2 (March Delegation)
Friday June 30- Sunday July 9 (July Delegation)
Price: $1350USD (Plus US-China Airfare)
Contact Us:
By: E-Mail (Best) ActivistWeb@gmail.com

By: Internet (Web Chat)
Skype: leesiuhin
WeChat: 13621942847

By: Phone
(213)403-0131
May Day 2016
National Mobilization For Immigrant Workers Rights!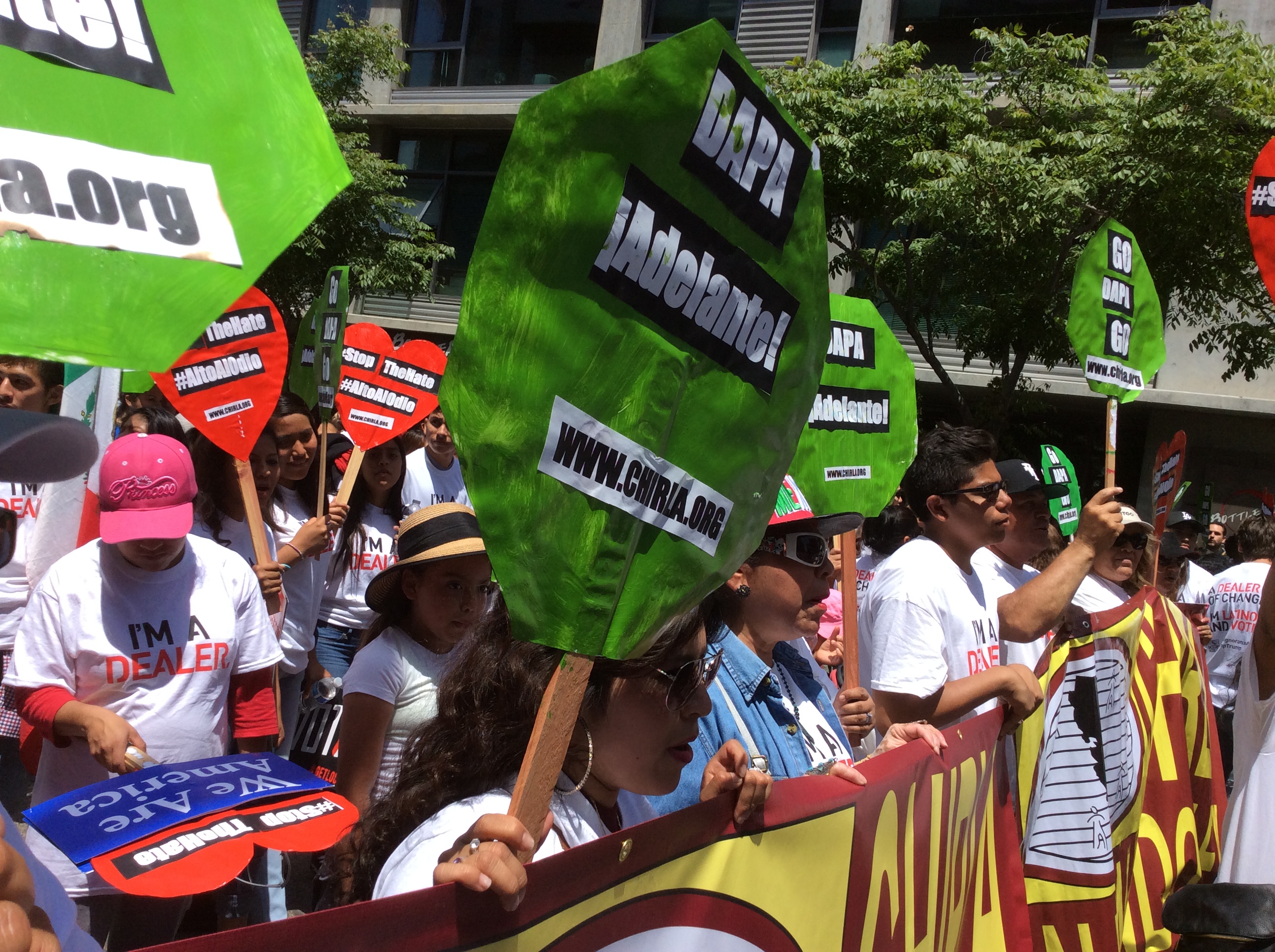 (Los Angeles May Day 2016)
http://www.ImmigrantSolidarity.org/MayDay2016/
National Immigrant Solidarity Network http://www.immigrantsolidarity.org

Lee Siu Hin
National Coordinator - National Immigrant Solidarity Network

Los Angeles, CA
Sunny Southern California May Day 2016, about thousand people organized by LA May Day Coalition participated in a multi-ethnic unity march, include Latinos, African American, Koreans and Chinese-American union members, as well as white activists, to join the march, demand immigrant rights, vote, union and NO to the Trump. Speakers includes: SEIU, Black Life Matters, KIWA, CARCEN, CHIRLA and so on. It was a powerful day!

Full report with photos: http://www.ImmigrantSolidarity.org/MayDay2016/

Past May Day Actions

May Day 2013

http://www.ImmigrantSolidarity.org/MayDay2013/

May Day 2010 Reports from Across the Country
May Day 2010 Reports Home Page

Los Angeles, May Day 2010
---
Past and Recent National Immigrant Solidarity Network Campaigns




National Immigrant Solidarity Network
4th National Grassroots Immigrant Strategy Conference
& Immigrant Rights Film Festival

April 10-12, 2009 Chicago, IL
Stop Immigrant Raids! Support Immigrant Workers Rights!
Together We Build A New Immigrant Rights Movement!
Successful Ending! Together We Build A New Immigrant Workers Rights and Justice Movements of 2009!
Conference Report, Campaign Proposals
National Immigrant Solidarity Network (NISN) is a grassroots, broad-based, multiethnic coalition of community, immigrant, labor, human rights and student activist groups, founded in 2002 in response to the urgent needs for the national coalition to fight immigrant bashing, support immigrant rights, no to the sweatshops exploitation and end to the racism on the community! We also actively linking our issues with different struggles: wars in Africa, the Americas, Asia, Iraq, Afghanistan, Palestine & Korea with sweatshops exploitation in Asia as well as in Los Angeles, New York; international arm sales and WTO, FTAA, NAFTA & CAFTA with AIDS, hunger, child labors and child solider; as well as multinational corporations and economic exploitation with racism and poverty at home—in order we can win the struggle together.
Between April 10-12, 2009 on Chicago, IL; over 110 organizers, activists and community members from African American, Native American, African immigrant, European Immigrant, Asian American, Latino/Latina, Arab-Muslim-North African, progressive labor, interfaith, LGBT, student, anti-war/peace and global justice groups from across the country. To meet face-to-face at to discuss how to build a new national, broad-based, immigrant rights/civil rights movement, and to set our 2009-2010 national grassroots immigrant campaign strategy.
We agrees together we'll focus on building all multi-ethnic, multi-constituent, broad-based grassroots immigrant rights movements run by de-centralized volunteer-based community-rooted immigrant rights activists from youth, workers and community members who can play more active role on campaign formulation and decision making for local coalition building to organize popular education campaigns, such as: campaign to against immigrant dentition, deportation & raids; immigrant labor rights movement; campaign against local anti-immigrant ordinance; comprehensive immigration reform (CIR) and linking the immigrant rights movement with other struggles, such as: anti-war and anti-globalization movements.
We welcomes our new steering committee member Alex Franco from Movement for Unconditional Amnesty, Philadelphia, PA.
We'll also discuss the lessons from the 2008 election and what we should expect from the new President and the Congress affecting immigrant legislation for the next two years.
We acknowledges that different people from different organizations, backgrounds have different believes on how to achieve the justice and better future for the tens of millions of immigrants across the country, and how immigrant rights movements can link to the broader peace and justice movements.
We had agreements, we have difference and even heated debates; after three days conference, at Sunday April 12th based on the feedbacks and proposals submitted to the conference, we had draft our new points of unity and strategic immigrant campaign proposals.
For those didn't able to come, we welcome your feedback and any suggestions of additions/modifications to siuhin@aol.com or info@immigrantsolidarity.org no later then Friday April 24, 2009.
For more information, please visit:
http://www.ImmigrantSolidarity.org/2009Conference/
E-mail: info@ImmigrantSolidarity.org
Phone: (773)942-2268

July 27-29, 2007 NISN National Grassroots Immigrant
Strategy Conference
University of Richmond, Richmond School of Law
Richmond, VA
3-Days conference Ends With Sucessful Adoptions of National Immigrant Solidarity Network 2007 - 2008 Strategic Immigrant Campaign Framework!

Based on the feedback from our members and allies we had formulated our 2007-2008 Strategic Immigrant Campaign Strategy during our July 27-29 National Grassroots Immigrant Strategy Conference in Richmond, VA. This is a non-binding resolution, that will only provide you a menu of suggested actions that can guide and encourage your local organization to discuss and choose which action(s) you would like to focus on in order to organize with us:
>> Read the Full Report and the Call
National Immigrant Solidarity Network Points of Unity
Great Article! (7/29 Richmond-Dispatch) Conference at UR on immigrant solidarity
---
Jan 29, 2007 Washigton D.C. Congressional Lobby
and National Call-In Day for Immigrant Rights
Organized by: National Immigrant Solidarity Network
On Monday, January 29, a group of us, representatives from San Francisco La Raza Legal Centro, National Organization of Women, veterans and I met with Speaker Nancy Pelosi's staff on immigration and present our open letter and exchanges ideas on the immigration issues. In addition, thank you for everyone who had visited and call your representatives at the Call-In day, at dozen states. >> Read the Congressional Lobby Day Report
More Details | More Information About the Open Letter | Endorse the Letter
---
May Day 2006 - We Have Made History!
Ten Millions Across the Country Take to the Streets to Demand Immigrant Rights!
http://www.NoHR4437.org http://www.ImmigrantSolidarity.org
Today was one of the most important days in U.S. history: ten millions of immigrants, activists and allies in over 200 cities from across the country chose to skip work, school, and the normal daily routine to participate in "A Day Without Immigrants." We held a national boycott, general strikes, rallies and symbolic actions in order to demand basic rights for all immigrants, and to build a new multi-ethnic united civil rights movement for the 21st century!