Return to Immigrant Solidarity Network Main Page
Return to Minutemen Watch Home Page
Minutemen Watch: 2005
December 2005: News About Minutemen
12/22: Going "Native" - A New Strategy From Anti-Immigrant Movement
By SCOTT MOORE - Portland Mercury
With the Threat of a Homosexual Takeover Averted, Conservatives Take Aim at Their Next Target--Immigrants >>> Read More
12/21: What's in a name? Modern Minutemen can't talk their way out of their moniker's past
By D.A. Kolodenko - San Diego City Beat (California)
Remember way back in April when creepy paranoids Jim Gilchrist and Chris Simcox, fabricators of the Minutemen Project, fooled the laziest mainstream media outlets into marketing a couple hundred ignorant, cranky crackers as the vanguard of a bold, new movement of polite vigilantes concerned about immigration issues? >>> Read More
12/19 US-Mexico Border: Vigilante Anti-Immigration Group Gaining
>>> Read More

12/10: Glendale police arrest SOS demonstrator, protesters clash over day labor center
One arrest made as opponents and supporters of day labor center come face-to-face.
By Lauren Hilgers GlendaleNewsPress.com (Glendale, CA)
GLENDALE, CA: About 10 members of the group Save Our State gathered Saturday (Dec 10) on the corner of San Fernando Road and Harvard Street to protest the day labor center, but they were met by more than 200 counter-protesters who shouted slogans in support of the center.
One Save Our State protester was arrested at the sometimes tense event. "He shoved one of the counter-protesters," said Glendale Police Department Sgt. Tom Lorenz. "We will not tolerate that kind of behavior."
Save Our State objects to the services the labor center provides to illegal immigrants and the role that the Home Depot store across the street played in the construction of the center.
"We just want to send a message out to our government," said Don Schank, a member of Save Our State, the organization that organized the protest. "We can't take everybody that wants to come to our country." Schank said it was not the laborers themselves that he blamed. "Heck, if I was over there [in another country], I would want to get here too," he said. The real issue is securing the nation's borders and reclaiming the country, Schank said.
Veronica Federovsky, an organizer for the National Day Labor Organizing Network, said protesting the labor center is a thinly-veiled form of racism. "We are not criminals," she said. "We are just trying to work."
The labor center, said Juan Rodriguez, who coordinates the center for the city, is not for Mexican immigrants alone, but for anyone who wants to use it. Many of the counter-protesters shared Federovsky's sentiments, and at times the interchange between the two groups grew heated. Supporters of the day labor center chanted "racist" at the group of protesters and told them to "go home to Europe."
The police department had spoken with the organizers of the event beforehand to explain the kind of behavior that is appropriate and to clarify the role police officers would play. "We are here only to protect your First Amendment rights," Lorenz said.
From across the street, inside the gate of the day labor center, Cesar Harrarte watched the action silently. "I come here every day," he said. "It's a good place to come."
---
WESTMINSTER, CA: 12/1: THERESA DANG ACQUITTED OF ALL CRIMINAL CHARGES!
WESTMINSTER, CA -- After a day of deliberation at the West Justice Center, a mostly white, middle-aged jury composed of engineers, homemakers, and administrative assistants found Theresa Dang, 26, of Westminster, California, "not guilty," on two misdemeanor theft charges for allegedly stealing a flashlight that was "lost" by a police officer at a Wednesday, May 25, 2005 counterdemonstration against Minuteman founder Jim Gilchrist in Garden Grove.
"The jury realized this case had nothing to do with a lost flashlight," said Duane J. Roberts, one of the organizers of the May 25th counterdemonstration. "They saw that this was a politically-motivated charge brought forth by the Garden Grove Police Department against Dang for exercising her constitutional rights of free speech and assembly."
Not only was the Deputy District Attorney handling the case unable to offer any conclusive evidence proving the flashlight in question was owned by a Garden Grove Police officer, but testimony made under oath suggests they have a "shoot first, ask questions later policy."
"It appears that Garden Grove Police put the cart before the horse," said Roberts. "In their zeal to persecute Dang for her outspoken criticism of the way they handled themselves on the night of May 25th, they filed criminal charges against her before conducting a thorough investigation of all the facts. If they had been seriously interested in doing the latter, they would have found out she committed no crimes."
In comments that Orange County Superior Court Judge Erick L. Larsh made during the jury selection process, an average trial like this costs California taxpayers about $22,000 per day.
"Taxpayers should be outraged that Orange County District Attorney Tony Rackauckas wasted an estimated $50,000 in court expenses to bring this case to
trial," said Roberts. "That's enough money to buy every officer on the Garden Grove Police force with three shiny new flashlights of the exact same make and model they claimed that Dang stole several months ago."
Roberts further adds: "District Attorney Rauckauckas needs to drop pending criminal charges against three other men arrested on the night of May 25th by Garden
Grove Police officers. The enormous amount of ill-will, mistrust, and negative publicity generated by the Dang case has tainted the credibility of that police force so badly that I doubt their testimony will be useful in convicting anybody. After seeing for myself firsthand what they did to Theresa, I seriously doubt any of these young men committed any crimes."
Duane J. Roberts
duaneroberts92804@yahoo.com

Nov 30 Updates: Theresa Dang's trial unexpectedly happened to end today, with the jury going into deliberations at around 4:00 pm. We're expecting them to come up with a verdict sometime December 1st Morning.
11/29 Deputy DA hits Theresa Dang with new criminal charge!
And yes, I said *charges*, because the Orange County District Attorney's Office today accused her of committing yet another criminal offense! Yup, they pulled a wand out of their magic hat and *proof* accused Ms. Dang for "theft of lost property" -- with no new evidence! >> Read More

Theresa Dang, 25, is expected to go to trial at the West Justice Center in Orange County on a misdemeanor petty theft charge of allegedly stealing a flashlight that was dropped by a police officer at a May 25th counterdemonstration against Minuteman founder Jim Gilchrist in Garden Grove.
Dang was one of 300 protesters at the counterdemonstration and one of four people thrown to the ground when struck by a minivan driven by Van Nuys resident Hal Netkin, a Minuteman supporter, who operates several websites on the internet that blame 'illegal immigrants' from Mexico for causing all of
California's economic problems.
On June 1st, Dang hand-delivered a letter she co-authored to the Orange County District Attorney's Office asking that Netkin be investigated for a crime; she also criticized police for mishandling the incident at a June 14th meeting of the Garden Grove City Council. Two days later, her home was raided by police searching for a flashlight.
Please support her struggle against the injust and the fight against racist Minuteman!
Recent news about Theresa Dang's trial
11/29: Jury selection begins in Theresa Dang's trial
11/28: Theresa Dang's trial delayed until Nov 29th
11/23: Updates on Theresa Dang's Trial

---
11/26: Minutemen Protest Show Outside NBC Studios

BURBANK, CA November 26 [Los Angeles IMC] In a formidable display of organization and discipline, at 9:00 a.m. fifteen members of the Mexica Movement and a handful of their supporters stood in opposition to thirty-five minutemen at the intersection of West Alameda and West Olive Avenues.
With matching T-shirts, their flag, an 8-foot banner, and carefully crafted signs, Mexica Movement stretched their forces along forty feet of the corner, in somber and determined contrast to the minutemen to the south, some of whom bounced from foot to foot waving small U.S. flags over their heads to old Beatles tunes.
The minutemen were outside of the NBC studios protesting a recent episode of "Law and Order," in which a fictional group called The Countrymen murdered border crossers. The minutemen's bullhorn was commandeered by two of the four African-Americans standing with them. One was homeless advocate Ted Hayes, sporting a U.S. flag draped around his neck. Hayes, who once tried to have Food Not Bombs members arrested for feeding the homeless, had concocted a short-lived plan with Border Watch leader James Chase to transport homeless people to the Minutemen's border actions. Today Hayes broadcast, "Uncle Tom was the good guy. Hitler was good at first. Then he started killing people." He and the other spokesperson called on the Mexica Movement to debate them. They added, "I thought Black people couldn't be racist."
Full report: Nican Tlaca Stand Up to Cowboys by Leslie Radford
---
10/31: Rally to Stop the Minutemen in Sacramento
October 31st Update (Bay Area Independent Media Center) One of three people arrested at Saturday's demonstration will be arraigned in Sacramento Superior Court on Tuesday, at 1:30 pm in Department 63. Supporters and attorneys will hold a press conference before the hearing. >> Read more
The Bay Area Coalition to Fight the Minutemen called for an action to oppose the Minutemen Project's rally to gather public support for their attempts to harass poor, undocumented border-crossers and to announce their support of a new initiative that would establish a state border police in addition to the existing federal border patrol.
There was a rally on the West Capitol steps in Sacramento on Saturday October 29th. It featured the founder of the Minutemen Project, Jim Gilchrist, and the legislative sponsors of the California Border Police Initiative, amongst others. About 600 people representing anti-racist groups throughout California arrived at the Capitol in busses and carpools from the Bay Area and the Central Valley to confront the Minutemen. Among those attending the protest against the vigilantes were Mexican American Political Association National President Nativo Lopez, former Green Party gubernatorial candidate Peter Camejo, and representatives from Bay Area Coalition to Fight the Minutemen, Deport the Migra Coalition, Zapatista Solidarity Coalition, Brown Syndicate and other statewide organizations. Three people were arrested Saturday at an anti Minuteman rally at the State Capitol, and two were treated for injuries.
Photos: 1 | 2 | Press Release on Arrrests | San Diego Indymedia Coverage
The demonstration was sponsored by the Bay Area Coalition to Fight the Minutemen, the "Deport the Migra" Coalition, the Zapatista Solidarity Coalition, the Mexican American Political Association, the Brown Syndicate, and other groups statewide. >> Read more
Oct 29: The No Border Movement Goes to Sacramento
The mintuemen had planned a press conference on the steps of the california capitol today to announce their initiative for the california border patrol and show how great they are. A diverse group from all over California including working class people and directly affected communities showed up to say otherwise.

Update: Press Release on Arrests
http://indybay.org/news/2005/10/1779473.php

Photos:
http://sf.indymedia.org/news/2005/10/1721346.php
http://santacruz.indymedia.org/newswire/display/18890/index.php

The minutemen were walled off from the protesters by CHP, horses and riot cops. About 350-500 protesters from San Francisco, San Diego and other cities were there to try to disrupt the event and provide a counterpoint to their racist messages. Less than half as many people, 150, were at the Minutemen rally.

While the Minutemen were making their speeches, numerous people tried to get past the lines to disrupt the activities. The Sacramento police used tazers numerous times. The sound of tazers clicking were "all over the place". One protester was held to the ground and tazered at the same time. There were 3 arrests, including one felony arrest with a 30,000 bail for a protester who was allegedly "resisting arrest". Demonstrators describd the police actions as "brutal", saying they were charging the crowd and "a lot of people were getting beat up".

Listen to the phone reports from Sacramento here:
http://radio.indymedia.org/news/2005/10/7501.php

---
10/16 Chicago, IL: Anti-immigrant Conference Faced Protest, Blockade, Arrests
by CIMC - TF / MS
Email: Knight0440@yahoo.com

[Chicago Indymedia Center] Dozens, and then hundreds [ 1 | 2 | 3 ], of Chicago-area community members delayed, in dramatic fashion, a national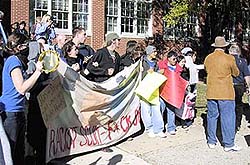 anti-immigrant organization's meeting in Chicago's Arlington Heights suburb on the morning of October 15, 2005. Activists linked their bodies arm in arm to form a human chain at the gates of the school where a meeting of the Minuteman Project was slated to take place.

The protest, at the gates of the Christian Liberty Academy on Euclid Avenue, saw some 15 to 25 activists (at their height) form a human blockade three lines thick at the entrance to the conference. The number of protesters had significantly outnumbered Arlington Heights police, who called for additional backup from at least five other nearby suburbs.

The stakes increased dramatically around noon when some 400 anti-Minuteman-protesters from assorted communities in Chicago arrived via bus convoy. The barricade then dispersed to join the rally, with the intent to reconvene later that afternoon.

Soon after, a team of police officers physically isolated an activist who had stood on the front line of the barricade. Protesters surrounded the police and the attempted arrest and tried to pull the activist out of custody. At that point, more police arrived to enter the fray, leading to more activist arrests. Photos: [ 1 | 2]

The day ended abruptly around 1:40 PM when a bus load of riot police arrived to disperse the crowd.

Those arrested could be counted among the most outspoken activists, those targeted as "leaders" and "agitators" of the morning's barricade. All the arrestees were later released that evening. Comment here.

Chicago Indymedia Newswire coverage: iNo Pasaran! Stop the Minutemen! | Arrests In Arlington Heights | Report from the Chicago Anti-Minutemen Protest | Minutemen: Media Coverage Report | Another report from Minutemen protest

Other Indymedia coverage: San Diego: Minuteman efforts | Arizona: Beyond the Minutemen | LA: Minuteman protests | Mexico: Cierre del Proyecto Minuteman | Indymedia US: Two People Reportedly Run Over by "Minutemen" Racists

Additional Information: South West Action to Resist the Minutemen | deleteTheBorder | Immigrant Solidarity Network: Minutemen Watch
---
10/7: Borders, Vigilantes, Deaths: Audio and Other Updates
San Diego IMC a compilation of some recent postings to the newswire concerning some of our three favorite topics here in San Diego: Borders, Vigilantes, and Death.

Audio: Llorona Post 9-11 || Minutejerks go North || The Minute KKKlan || Jen Discusses Resistance to Border Vigilantes

Stories: Record number of border deaths || Hundreds charge Spanish Border || Why We Oppose Borders ||
English

Read more >>
Minutemen at the U.S.-Mexico Border
Minutemen Suspected in Border Shootings
by Chicomozteca (Los Angeles Independent Media Center)
Saturday, Jul. 30, 2005
James Chase says "rogue" MIntemen shot 2 Mexicans on border near Campo / Tecate
Minutemen Suspected in Border Shootings
Campo California –
Jim Chase of the California Minutemen admitted to the San Diego press this week that "rogue" Minutemen shot 2 unarmed Mexicans at the California border near Campo Saturday night. "The rogue theory is absolutely true," he said.
Chase claimed no one in his formal organization has fired a weapon, and that he has turned away "extremists," but that he's encountered "rogue" patrols.
According to fellow anti-migrant activist Andy Ramirez of "Friends of the Border Patrol," however, Chase had planned to bring "snipers" to the border, a move Ramirez denounced, saying "It scared the hell out of me. We decided we weren't going to have anything to do with him."
Associated Press reported earlier that Chase would not intervene against anyone chasing migrants on the "If somebody's stupid enough to do it, I'm not going to stop them," Chase said.
Chase had urged volunteers to bring baseball bats, mace, pepper spray and machetes to the border but said he rescinded the call after the Border Patrol expressed concern about potential violence.
Despite Chase's claim to knowledge of the shootings neither the Border Patrol nor any other federal, state, or local agency has opened an investigation, despite an earlier claim by San Diego Sheriff Bill Kolender who said "We will not tolerate any kind of hate crimes, we will not tolerate any violations of the law…"

Mexican officials have meanwhile contradicted their original claim that the 2 Mexican nationals were shot by "bandits" – a claim the victims flatly denied. Authorities now say it is uncertain who shot the migrants.
Jose Rivera Perez was shot below the left knee while waiting to cross the border about 20 yards south of the steel fence that slices through the desert. His group was approached, Rivera said, by a masked assailant who, when they began to run, fired on them.
Rivera said he was not robbed, according to the Union Tribune. "If he were a bandit he would have robbed us and taken everything. He only shot at us and ran," Rivera said.
A second man, Carlos Estrada Martinez, said he was shot some 200 yards on the US side of the border when, according to the Union Tribune, "he saw a laser dot tracing up and down the front of his body" before he was hit by the third of three shots fired in the darkness. Estrada also said he was not robbed.
Chase, who has reportedly angered police with a very frequent series of calls over minor matters, told reporters that he has been running into people conducting patrols "who have not gone through me…" There is no indication that Chase reported such patrols to the police, however.
Similar claims of "rogue" Minutemen activity were made when Minutemen invaded the Arizona border and several migrants were held at gunpoint. Chase claimed this week he had called the Border Patrol after he picked up a migrant couple hitchhiking along a state highway near the borderline, claiming he became "suspicious" only after stopping to pick them up. He dropped them off near the Border Patrol station in Campo, then called agents to arrest them.
"They looked like a nice couple," he said.
According to the Union Tribune, Heriberto Garcia, regional coordinator of the Mexican National Human Rights Commission, said of the Minutemen, "They are feeding feelings of hatred… It's very strange that these acts are occurring in this context. We're not discarding any possibilities until authorities find out who did this, one way or another."
Meanwhile, anti-Minutemen activists in the Campo area reported encountering heavily armed men hiding in bushes the night of the shooting, some two miles East of Campo in the direction the shootings took place. The men used Morse code on their flashlights to demand a password from the activists.

For mainstream press reports see:
http://www.signonsandiego.com/news/mexico/tijuana/20050726-9999-1m26border.html
http://www.signonsandiego.com/news/mexico/tijuana/20050727-9999-7m27shoot.html
For San Diego Indymedia account see
http://sandiego.indymedia.org/en/2005/07/110168.shtml
San Diego Indymedia says
Two migrant people were shot under mysterious circumstances last week in the border region where the Minutemen have been patrolling. One was shot in Mexico and one was shot inside the US. While "Mexican authorities" have claimed that "bandits" were behind it, the victims were quick to point out that nothing was stolen from them. This strange circumstance is added to by the fact that these "bandits" used laser scopes to target their victims.
Numerous calls have been made to the sheriff in Campo, CA, but still no investigation is taking place. In addition, James Chase admits to transporting undocumented people, which is a crime, but he is also not having charges pressed against him, unlike the volunteers in Ariznoa who were sent to jail for taking migrants in critical condition to a hospital. Many are saying, "Chase and Co. MUST be investigated". Gente Unida held a press conference on Friday, July 29th to address this issue.
To contact the sheriff, Phone: (619) 478-5378 Fax: (619) 478-9076 or go to: http://www.sdsheriff.net/rural/substations_campo.html

Report from Campo - Anti-MM Action
by Next Move Saturday, Jul. 23, 2005 (Los Angeles IMC)

Approximately 60 activists from around the region converged on the border area south of Campo, CA to peacefully make the point that the Minutemen are not welcome in California.
Approximately 60 activists from around the region converged on the border area south of Campo, CA to peacefully make the point that the Minutemen are not welcome in California and that racist, armed vigilantes aren't the solution to the problem of anti-worker, anti-human political and social climate that capitalist globalization presents. Unity among working people is the solution, not the fascist rhetoric and actions that the Minutemen offer.
The anti-Minuteman camp is set in a beautiful region of chaparral about 100 yards from the border. The Minuteman camp is located about 1 mile east of that location.
The man-made border consists of rusted, corrugated metal and steel piping and is accompanied by an access road that runs right next to the border fence. There are several areas where the fence is incomplete and where there are gaps in the fence. I was able to find two such gaps during a 15-minute walk.
Activists arrived throughout the evening and at about 8PM there were about 60 of us. There were also several members of the print and TV media present.
At 9PM on Saturday a vigil was held to honor those who have lost their lives while crossing the border.
Following the vigil we piled into vehicles and headed east along the border road to hold the same vigil up at the Minutemen camp, which is located about 1 mile east of the activists camp.
When we arrived at the Minutemen camp, instead of being confronted by vigilantes armed with guns, we were confronted by a bunch of men in their 30s, 40s, and 50's holding flashlights and video cameras. They just stood there behind a small fence in silence as the protesters had their vigil.
On Minutemen did speak though. While the coordinator of the vigil was reading a story about a man who had died crossing the border, the Minutemen decried, "What about my friend who was killed lat week by an illegal alien?" To which the coordinator replied, "if you're talking about aliens call NASA, but we're talking about human beings here." We proceeded with a moment of silence to honor the 3500 that have died crossing the border wall.
When the organized vigil was complete the interactions with the Minutemen began. Some people crossed over to their side of the fence and attempted to engage the Minutemen in a dialogue. For the most part, the Minutemen returned the effort with blank stares, as they seemed to be operating under some sort of a gag order.
James Gilchrist was present though and he was more than vocal, claiming that the protesters had exposed themselves as "racists". He provided no explanation however.
A humorous moment came when James Chase, the founder of this particular group of Minutemen put on a pair of full-sized headphones, presumably to make the point that the protestors were making a lot of noise.
Chase provided another interesting moment when he got in his car and left the protest area.
Two San Diego County Sheriffs arrived to keep the peace but there were no arrests.
At 10PM we left. We all headed back to our cars and returned to camp.
At approximately 11:45PM three carloads of Minutemen came to our camp. They were led by Chase himself, although he was in a different truck than the one he drove away from the protest site. He led the Minuteman caravan very slowly right past our camp in an attempt to draw some of us out for a confrontation. It worked. About 25 people walked out into the road and Chase got out of his truck with a rifle. The protestors yelled things like "cowards", "racists", "what the hell do you think you're doing" and "get out of here with your guns you racist vigilantes".
He didn't point it at anybody but walked next to the caravan as it proceeded north, while someone else drove the fill-sized red pickup truck. One Minuteman was urging someone in the crowd to touch him. Presumably operating from the notion that if he was touched he could proceed to use his gun. All of the Minutemen that got out of their cars armed with either rifles or handguns, some in holsters. They reminded me of the secret service escorting George Bush down the street during his inauguration day parade.
Nobody was intimidated by the antics of the Minutemen, as it was obvious that they were doing them just for the sake of show and in a vain attempt to create a violent confrontation, which is apparently what they really live for. They didn't need to drive past our camp and from that point on they exited and entered the area by way of an access road about 15 feet north, effectively averting passing directly in front of our camp.
At about 12:30AM, the Buenos Noches Brigade returned to the Minutemen camp for some more peaceful protest. Armed with poetry, music, dancing and chanting the BNB effectively drove the Minutemen to frustration. The BNB returned to the camp at about 2AM and at about 2:30AM a long caravan on Minutemen and their vehicles left the area.
Most in our camp were either asleep or had decided to drive home as of 3AM. With a few night owls staying up until 5. I woke up, after sleeping in the back of my truck at about 7:30AM and decided to head home and was back in Los Angeles by 11AM.
The camp is ongoing until August 8. Directions from the L.A. area: take 60 or 10 FWY east to 15 south, transfer to the 8 east (to El Centro), get off at Buckman Springs Rd. (south) go 12 miles to # 94 (right) go 1 mile to then take a left on Forrest Gate, stay on this trail to the border. You will drive right into the camp.

---
9/25: Anti-racist Activists Confront Neo-Nazis in Laguna Beach
LAGUNA BEACH, SEPTEMBER 25, 2005--At its peak, 40 day laborers were joined by 60 human rights advocates in opposition to a small group from Save Our State at the Day Labor Center in Laguna Beach. By scheduling their event for the morning of the international anti-war rally, Save Our State had hoped for little opposition but were outnumbered five to one by the jornaleros and dedicated supporters of immigrant rights. Reports: Laguna Beach III: SOS and Neo-Nazis Confronted Again by Leslie || Activists confront SOS in Laguna Beach by Rockero420
In a related story activists are claiming that one of their members was wrongfully arrested at this demonstration. Report and photos: Police Harassment at Anti-racist demo by Lal
---
9/18 San Diego, CA: Deporten a La Migra Marches on Sacramento; Minuteman Training Disrupted in San Diego
A weekend of No Border actions in San Diego confronted the racist groups attempting to mount vigilante border patrols in California. On 9/17, a group of around 50 demonstrators interrupted a "Friends of the Border Patrol" training session, tore down the registration table and flag and entered the hall chanting "No Borders, No Racists, No Borders, No Nations" and "We didn't cross the border, the border crossed us." On 9/18, a No Border March converged on the border from both north and south at Calexico, about two hours east of San Diego.
Meanwhile, on 9/16, a bay area coalition called "Deporten a La Migra" headed to Sacramento to march on the State Capitol and Attorney General's office, condemning the racist vigilantes terrorizing the border. St. Peters' Housing Committee, SF Day Labor Program, Mujeres Unidas y Activas, CARECEN, Heads Up Collective, CISPES, and Just Cause Oakland all sent delegations to present their demands to Schwarzenegger and Lockyer.
Report and Photos from Bay Area Coalition to Fight the Minutemen | Reflections by a bay area no-borders activist | Report from Deporten a La Migra | Coverage at San Diego Indymedia

---
8/23 El Paso, TX: Council votes 7 to 1 to oppose Minutemen
By Jon Humbert
The El Paso City Council put the line in the sand at Tuesday's meeting, voting seven to one to oppose the Minutemen in the city limits. Read More...
---
7/16: SOS in Laguna Beach, CA
by Next Move (Los Angeles IMC)
SOS held their anti-immigrant rally today in Laguna Beach. Seems like 40 or so SOS showed with a sparse counter-demo of about 5-10 folks. Many Socal activists are in Campo right now opposing the Minutemen (Border Patrol Auxiliary?)
According to the accounts below the Stormfront racists were also there and stood shoulder to shoulder with SOS (just like BP).
Once again SOS stands side by side with white supremacists. According to the account below Advocate, Old Preach and other showed up and represented WN (White Nationalists).
Earlier this week Old Preach lit up the indymedia board with his over the top stereotyping of African-Americans.
Check this thread for details:
http://la.indymedia.org/news/2005/07/132384_comment.php#132864
Account from "Baldy"
http://www.stormfront.org/forum/showthread.php?p=2024168#post2024168
---
6/25 Protest Against Minutemen, "Save Our State" in Baldwin Park

Report by Leslie: BALDWIN PARK, June 25, 2005--By noon, about eight hundred counter protestors stood against the invasion of Baldwin Park by Save Our State from Ventura and Minutemen from Arizona, both militant anti-migration groups, and the Nazi National Vanguard, a white supremacist group, together numbering about forty or fifty. This was the invaders' second unsuccessful effort to attract attention to a monument at the Baldwin Park Metrolink station entitled Danzas Indigenas by renowned artist Judy Baca, which commemorates a Tongva ("Gabrielino") Indian uprising led by Toypurinah against the San Gabriel Mission and the history of the land from that time forward. At their first incursion on May 25, SOS had declared inscriptions on the monument referring to indigenous Mexican culture "seditious."
I was escorted into the celebration by two friends, one looking particularly sharp in his brown beret. We were met by eight hundred celebrants who had come to assert their Indigenous, Mexican, and Chicano culture in the face of the racist intruders, surrounded by cops. A mild-mannered poet burst into a fierce diatribe proclaiming "Genocide alert!" in a poem about Kristallnacht. An interlingual agitprop teatro group told a history of the Native and Mexican land grabs. Behind the tarp that hung as a backdrop, young actors hastily tore off one costume and slipped into the next. They parodied a white SOS member in the large, droopy American-flag hat who had appeared at an earlier demonstration and Lupe Moreno, the Latina spokesperson for SOS. El Pelado ended the acto with a costume transformation revealing him not to be a clown, but a proud Chicano declaring "Ya basta!" (Just below, link to the rest of this report)
UPDATES: Baldwin Park 2, the Rematch! by Fredric L. Rice, Baldwin Park 2: La reconquista contin®≤a by Leslie , Arrests in Baldwin Park by Next Move, Report from Save Our State by 1Planet1People
REPORTS: Pictures/Report From Baldwin Park by Next Move, More Baldwin Park pictures by Next Move, Baldwin Park Picture Part 3 by Next Move, Preliminary anti-hate rally report by Fredric L. Rice, News From The Front Lines: Baldwin Park Updates, by 1planet1people, Legal action against Joseph Turner, director of SOS, is there a case? by Peoples law collective San Gabriel Valley Tribune: Officials brace for SOS by By Shirley Hsu, Garden Grove United Resistance by Pachuco, "Save Our State" / "Minutemen" Issue City Threats? by Fredric L. Rice, SOS to Abandon L.A. County? by Next Move
---
6/18: Home Depot Save Our State Anti-immigrant Demo and Counter Demo


It was a few minutes after 9:00, and it was already clear that Joe, determinedly grinning, and his ragtag crew from Save Our State had lost their effort to stop Alhambra Home Depot shoppers from supporting the store's hiring practices. What wasn't clear was why the police let most of the Alhambra and Los Angeles counter-demonstrators stand behind and on either side of the small Ventura group, as well as across the street, for more than an hour. Thirty Alhambra, Monterey Park, and Glendale police lined up along Morengo Street facing both groups on the sidewalk, those complaining about Home Depot's community-based hiring practices in front and those supporting it directly behind them and to spilling along the sidewalk on either side. . . .
UPDATES: Statement on Alhambra by SGVNPJ, Pasadena Star-News gets Alhambra Protest story 100% wrong by A
REPORTS: Alhambra: And Then They Came by Leslie
PHOTOS: Photos from Anti-SOS/MM protest by A, Pictures from Alhambra SOS Counter Protest by Was actually there, SOS Takes a Lot of Heat by Marcus, Protest Part 2 by Was actually there, Pic's from warm up to BP2 by RP, Photos From Alhambra by Johnny
VIDEOS: Video from Alhambra Counter-protest by A, Alhambra Video by Marcus
---
6/17: Garden Grove Police pursue phony criminal charge against woman hit by Minuteman supporter
---
5/26: Attacks and Arrests on Protesters in Garden Grove, California!

5/27 UPDATE 1: 4 students released, one still in Orange County Jail: 550 N. Flower St., Santa Ana (714) 647-4500
5/27 UPDATE 2: Duane J. Roberts Just learned from Garden Grove police, that Hal Netkin was released from jail early this morning and will *not* face criminal charges for running his minivan into four people at the protest against Minuteman founder Jim Gilchrist.
5/27 Update 3: Last protestor arrested by Garden Grove police at Minuteman demo expected to be released tomorrow (5/28) read more (ActionLA)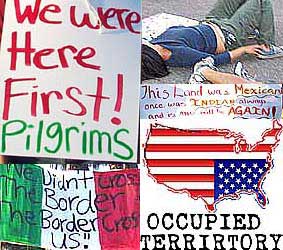 [Los Angeles Independent Media Center] Wednesday, May 26. Yesterday the man who hit four pro-immigrant protesters with his van was released by the police while four other protesters who were peacefully demonstrating their anger toward the anti-immigrant group, the minutmen, are still in jail. Some are detained on bail as high as $50,000 for allegedly throwing bottles of water at the police. Police officers also felt threatened by a person in a wheel chair (I kid you not), and they arrested him without any apparent reason other than being an easy target for arrest.

On television Jim Gilchrist denied the protesters allegations of him being a racist although, on the same day, his friends and allies displayed signs targeting only undocumented immigrants from Mexico°™not undocumented immigrants from Canada or Europe.
Reports: Garden Grove: From Where I Stood by Leslie,
Anti-Immigrant Hal Netkin Arrested by LA Observed,
Hal Netkin identified as driver of Minivan that struck persons at Minuteman protest by D. J. Roberts
Photos and report: (1 of 3) , (2 of 3) , (3 of 3) by 1Planet1People,
More Photos: 1 | 2 , 3
More Reports: Minutemen Car Hits 4 Protestors, | 2 | MORE UPDATES---ARRESTS, Update On GG Arrests
Recent Updates:
5/25: Urgent! Stop the Minuteman Invasion of Garden Grove, CA!
Please Call the Garden Grove, CA Women's Civic Club to cancel Jim Gilchrist's effort to organize Minutemen vigilantes in Garden Grove, CA on Wednesday (5/25) night! More Info..
Los Angeles IMC Analysis: Minuteman Project Expanding to California?
Minuteman Project founder Jim Gilchrist, who describes himself as a "conservative and a left-wing wacko," will address his followers in Garden Grove, California, in what seems to be an attempt to expand his project to Southern California. The meeting will be held on Wednesday, May 25, at 7:30 PM at the Women's Club at 9501 Chapman Avenue, Garden Grove, CA .
Reports: Minuteman Found in Garden Grove by rp, Border Vigil Planned for California by Gandhi,
Threats to Intimidate Political Activists by 1Planet1People
List of anti-immigrant groups to watch: Save Our State (SOS) , CCIR , Friends of the Border Patrol
---
5/14 Baldwin Park, CA: Right Wingers from "Save Our State" Get a Strong and Angry Response
[Los Angeles Independent Media Center] Baldwin Park, on Saturday, May 14, an outraged community organized a counter demonstration to protest the right wingers from Save Our State (SOS) who want the city to remove the wording on a monument that they consider to be offensive and seditious. Artist Judith F. Baca who was commissioned to build this 1993 monument says that the work is a public memory dedicated to the preponderant Latino population in the city, "to make visible their invisible history."

Photos and report from the newswire: Baldwin Park Photos by Mukai, Baldwin Park by KWENTO
April 2005: Protests Ignite and Media Swarms as Minuteman Project Invades Southern Arizona!

Minuteman Project highlights complexity of border crisis
April 3 Updates (by Arizona IMC)
Photo Summary of April 3 Weekend Protests
Photo Summary of Minuteman Project volunteers: Part 1
Photo Summary of Minuteman Project volunteers: Part 2
Officials Claims Migrants Not Held Against His Will
Challenge the "Minuteman Project" Planning Mtg and April Actions
3/30: Armed 'Volunteers' Plan to Patrol Border
3/23: Mexican slain crossed with family
SENATE APPROVES FUNDING FOR 2,000 NEW BORDER AGENTS
Minutemen appear to be restyling campaign along Mexican border
3/7: Letter from ACLU of Arizonia
3/4: Civil suits against Barnetts

Nazis, racists join Minuteman Project
Southern Poverty Law Center
April 22, 2005



Two Minuteman Project volunteers ý men who described themselves as members of the neo-Nazi National Alliance ý pose near the Mexican border with a handmade sign bearing an image identical to that on Alliance pamphlets and billboards.
The men told fellow volunteers that a total of at least six Alliance members had joined the Minuteman effort in order to recruit new Alliance members and to learn where to conduct their own "Mexican hunts" once media attention flagged.
The men carried assault rifles in their vehicle and boasted that they were scouting "sniper positions."

DOUGLAS, Ariz. | April 22, 2005 -- For months, Jim Gilchrist promised that his Minuteman Project would peacefully observe the Arizona border as a protest against illegal immigration. Volunteers ý he said there would be 1,300 of them ý would be carefully screened, with FBI help, to keep out white supremacists and racists. No one would be allowed to bear guns except those who had permits to carry concealed weapons.
Gilchrist said that critics who called his group "vigilantes" ý naysayers who included President Bush ý were absolutely wrong about his volunteers.
Indeed, Gilchrist told USA Today, these men and women sought only to bring attention to a major social problem. Most were "white Martin Luther Kings."
Maybe so. But Gilchrist's accuracy has been less than sterling.
As the month-long April project started, some 300 volunteers showed up ý a thousand fewer than predicted. An FBI official denied that the agency was screening Gilchrist's or any other private group's members. At least four-fifths of volunteers did carry weapons, and almost none were checked for permits. Racist talk abounded. And at least some neo-Nazis and other racists did join in Gilchrist's project.
On April 2, as the month-long effort got under way, the Minuteman Project held a protest across the street from the U.S. Border Patrol headquarters in Naco, Ariz. Prominent among the demonstrators were two men who confided that they were members of the Phoenix chapter of the National Alliance ý the largest neo-Nazi group in America. One of the two, who sat in lawn chairs throughout, held a sign with arrows depicting invading armies of people from Mexico ý a sign identical to National Alliance billboards and pamphlets, except without the Alliance logo.
The presence of Alliance members was not much of a surprise, and there were likely more than that pair. "We're not going to show up as a group and say, 'Hi, we're the National Alliance," Alliance official Shaun Walker told a reporter in the run-up to the protest. "But we have members ... that will participate."
In fact, National Alliance pamphlets were distributed in Tombstone and this predominantly Hispanic community just two days before the Minuteman Project got going. "Non-Whites are turning America into a Third World slum," they read. "They come for welfare or to take our jobs. Let's send them home now."
Many other white supremacists had promised to attend, including members of the neo-Nazi Aryan Nations, but it was difficult to know if they showed up.
One well-known extremist did appear. Armored in a flak jacket and packing a .38-caliber snub-nosed revolver, Joe McCutchen joined other volunteers patrolling the barbed wire fence separating the United States and Mexico near Bisbee, Ariz.
McCutchen is the recently appointed chairman of Protect Arkansas Now, a group seeking to pass legislation that would deny public benefits to undocumented workers in that state. More to the point, he was identified by the white supremacist Council of Conservative Citizens as a member in 2001 ý a charge he denies, though he admits that he did give a speech that year to the group that has described blacks as "a retrograde species of humanity." As recently as summer 2003, McCutchen wrote anti-Semitic letters to his hometown newspaper in Fort Smith, Ark.
"A lot of these people coming in, they're diseased," McCutchen told one group of fellow volunteers, who treated him like a visiting celebrity. "They've got tuberculosis, leprosy. I mean, you don't even want to touch them unless you're wearing gloves. So why the hell should we pay our taxes to cure them?"
"They're turning our country into a Third World dumping ground," he said. "We're losing our language to them, losing our culture. They're taking over, and if we don't stop [immigration], our society will not survive. That's why I'm here."
Back in March, Gilchrist had also warned that he had been told that leaders of an extremely violent gang made up of Salvadorans ý the Mara Salvatrucha, or MS-13 ý had ordered its members to teach "a lesson" to the Minuteman volunteers. As it turned out, however, no frightening, brown-skinned gangsters showed up.
But the National Alliance was certainly there.
The day after the Minuteman rally in Naco, the two Alliance members there ý one of whom identified himself as "Sam Adams" ý were assigned to an observation post about a mile from McCutchen's location. They arrived there after a 10-minute "training session," driving to the post as they blasted white power music.
"We understand why Gilchrist and [project co-organizer Chris] Simcox have to talk all this P.C., crap," said one. "It's all about playing to the media. That's fine. While we're here, it's their game and we'll play by their rules. Once Minuteman's over, though, we might just have to come back and do our own thing."