12/8: Very Serious Hate-E-Mail/Call/Threat Against Immigrant Solidarity Network

Lee Siu Hin
National Coordinator
National Immigrant Solidarity Network


Last several days, there's a woman name"Laura," called and e-mailed to our offices across the country, leaving very racist, hateful and serious threat messages against me and our organization.

Audio:

http://www.immigrantsolidarity.org/Audio/Dec706HateCall.wav

http://www.immigrantsolidarity.org/Audio/Dec806HateCall.mp3


E-Mail:

MURDERERS ARE "HUMAN BEINGS" BUT THEY ARE STILL CRIMINALS...
12/7/2006
From: laura@gainusa.com
To: info@ImmigrantSolidarity.org

> ANYONE WHO BREAKS THE LAW IS ILLEGAL. MURDERERS ARE "HUMAN BEINGS" BUT
> THEY ARE STILL MURDERERS AND ARE ILLEGAL. LIKEWISE BURGLARS ARE ALSO
> HUMAN BEINGS BUT ARE STILL BURGLARS WHO HAVE BROKEN THE LAWS, LIKEWISE
> RAPISTS, ETC., ETC. - ALL HUMAN BEINGS BUT STILL CRMINALS!

CAN'T YOU DO ANYTHING ELSE BUT MANIPULATE WORDS - HOW SHALLOW AND DUMB!


Based on our initial investigation, Laura's e-mail (laura@gainusa.com) is owned by Laura Leighton, member of the Arizonans for Immigration Control--an anti-immigrant group from Arizona.

National Immigrant Solidarity Network take this (and the latest series of personal threats against us) very seriously, and we will contact the appropriate authority for further actions.

Finally, regardless of their cowered and racist intimidation against us, WE"LL NOT BE SILENCE! We'll fight until a day justice, dignity, equality for immigrants and everyone, and we can live without fear and oppression.

Lee Siu Hin
National Coordinator
National Immigrant Solidarity Network
---
11/23: Fremont, CA: Local anti-immigrant group may join Minutemen
Coalition seeks to form Bay Area chapter, challenge immigration policies
The East Bay Coalition for Border Security has been called many things - some good, some bad - by onlookers during its anti-immigration protests this year.
Soon, the coalition may add "Minutemen" to the list.
The Fremont group's members voted this week to send an application - and a $150 fee - to the Minuteman Project in hopes of becoming the national group's Bay Area chapter. >> Read

---
11/23: Ex-Minutemen want harder look at group's finances
For the first time, the Minuteman Civil Defense Corp. has revealed a smattering of intriguing details on its finances, but some former members want to know more about how the group has spent hundreds of thousands of dollars in contributors' money.
Chris Simcox, the founder of nonprofit border watch group, posted IRS forms and an audit on his Internet site Nov. 15 in response to media reports raising concerns about how the group was handling its contributions.
"Just too many irregularities"
The new documents offer a glimpse into the organization's finances, former Minuteman loyalists say, but leave several unanswered questions.
Among them: How are the Minutemen spending thousands of dollars in membership fees they've collected over the past 19 months? And what companies or other nonprofits received $277,000 - amounting to more than half the group's contributions in 2005 - for unspecified "personnel services?" >> Read More
---
11/11 Maywood, CA: Immigrants Rights Supporters and Anti-immigrant groups face off in Maywood
[Los Angeles IMC] Anti-immigrant groups returned to the City of Maywood today to protest against the city's policy of support of the rights of immigrants. They were again greeted by hundreds of counter-protesters. Police openly sided with the anti-immigrant groups providing escorts to and from their cars and giving them a motorcycle escort out of the city at the end of their demonstration. Three arrests have been reported, two counter-protesters and one from the minutemen side. There are also reports that police fired rubber bullets and struck one of the counter-protesters. Witnesses report that in another incident that elderly man in his 70s was injured when police advanced on counter-protesters with their batons.
From the Newswire: Area cops lead minuteman invasion of Maywood by Leslie Radford

Timeline of call ins: 10:45 am Protest going on in Maywood now
---
11/10: In Arizona, Minutemen lost more than House hopeful on Election Day

Despite the Minutemen's all-out effort to get Republican Graf into the congressional seat vacated by fellow Republican Jim Kolbe, their man lost his bid - in a Republican-dominated district - to Democrat Gabrielle Giffords.
And if losing weren't enough, Graf, who publicly aligned himself with the Minutemen, failed to carry Cochise County, where the Minutemen have beenvery active on the border ranches. The Minuteman organization, born in Tombstone more than a year ago, has worked hard to make immigration a national political issue. >> Read
---
10/4 New York, NY: Students storm stage at Columbia University; Minuteman Project founder forced to flee!
After a 45 minute long diatribe by a preachy opening speaker, during which a packed crowd inside Roone Arledge grew increasingly irate, main event Jim Gilchrist was rushed by a large group of students, in what descended into a free-for-all on the stage. >> Read the Story
See the video of the protest: http://www.bwog.net/index.php?page=post&article_id=2265
10/6: Columbia Students Full statement of those who occupied the stage
Defend Columbia Students: Join over 1200
who have signed the online petition!
The defense of Columbia students who protested the racist Minutemen is now in full swing. Your help is urgently needed. Please take a moment to sign an online petition at:
http://www.petitiononline.com/nominute/petition.html
---
Internal Strife at SOS
[LA IMC] While Save Our State and the Minutemen have seemingly been enjoying an upswing in momentum lately certain factors have become apparent that may point to a change. Following the July 8th police beatings of anti-Minutemen protestors and the subsequent giddy elation displayed by the Minutemen and SOS in the face of such violence, certain factors have come into play which highlight the authoritarian nature of Save Our State and the fact that some of the rank-and-file may get burned by the leadership very soon.

Reports: Internal Strife at SOS - Part I | Part II | Part III | SOS is Coming to Maywood All by Next Move
---
7/31: MINUTEMAN FUNDRAISER DRAWS NEWPORT BEACH CITY COUNCILMAN

[LA IMC] COSTA MESA, CALIF -- It was a perfect Sunday afternoon for a barbecue in Fairview Park. Not a cloud was in the sky and a cool ocean breeze blew off most of the muggy heat that Californians have endured lately.
Gilchrist Angels, a group co-founded by wealthy Laguna Beach "Minutewoman" Eileen Garcia, was holding a fundraiser for Costa Mesa mayor and honorary "Minuteman Project" member Allan Mansoor, who is seeking re-election this November. ...

Full report: MINUTEMAN FUNDRAISER DRAWS NEWPORT BEACH CITY COUNCILMAN CENSURED FOR RACIST INSULTS By DUANE J. ROBERTS
---
7/15: Laguna Beach: Minutemen drop their mask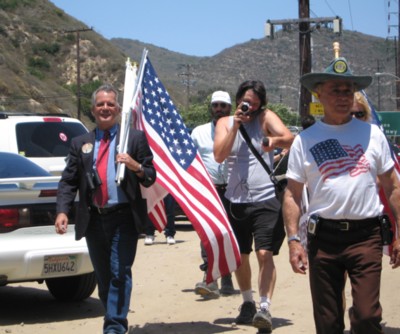 [LA IMC] LAGUNA BEACH, 15 July 2006--The minutemen were mean. Just sheer, ugly, dog-biting mean. One of them had discovered the Laguna Beach Day Labor Center was on state land but, just days later, on July 11, the City of Laguna Beach leased the land from the state to keep the center open. The minutemen came to Laguna Beach to protest their defeat, at a day labor center that has been a hotspot over the past year between immigrant supporters and deportation mongers. But the City had already made up its mind. And the minutemen had lost before they even began.
Under the hot summer sun, the anti-migrant protestors set their tone when a minutewoman, recognized only as Penny, drove into a passing bicyclist, knocking him to the ground as she honked at her friends while turning into the parking lot. Her compatriots rushed to comfort the driver, while the cyclist lay in the street. The minutemen were in no mood to worry about other people. In a flashback to Hal Netkin's violent vehicular attack in Garden Grove, the driver was apparently not cited by any of the dozen or so police present. ...

Full report: Laguna Beach: Minutemen drop their mask by Leslie Radford
---
7/14: Anti-Minutemen Demonstrators Attacked in Fremont
[SF Indybay Media] On July 14th, 25 protesters with the East Bay Coalition for Border Security, a racist, anti-immigrant group in Fremont that is seeking affiliation with the Minutemen, were met by twice as many counter-protesters at a rally in Fremont which takes place every other Friday during the summer. This was the third time the two sides had faced off this summer – the racists' message of hate and xenophobia being challenged by the counter-protesters' determination not to let them grow or intimidate immigrants and people of color in their own community.
For the first time, the counter-protesters were violently assaulted by the Minutemen wannabes and repressed by the Fremont police. As can be seen in a video taken at the event, a member of the EBCBS shoved and punched two of the anti-racist counter-protesters. This came after another violent altercation with a young Latino man.
The EBCBS will hold its next rally on July 28th in Fremont and once again we will be out there to protest them. Gather at 4:30pm at the corner of Mowry Ave. and Fremont Blvd. We want everyone to know that these racists do not reflect the views of most people in Fremont or the Bay Area and that we will not tolerate this kind of hate and violence in our own backyard. Read more
see also: Minutemen Attack Counter-Protesters in Fremont, One Arrest
---
May 21 Los Angeles, CA: Immigrants rights supporters countering anti-immigrant rally
Reports from LA IMC

[by Next Move] Using a provocative tactic, made famous by the Orangemen in N. Ireland and utilized by the KKK and neo-nazis on many occasions, the Minutemen marched directly down a thoroughfare packed with the very people they target.
The Minutemen numbered about 120 while counter-protesters numbered around 200. I'm sure the reports on numbers will vary widely but the march was handcounted and 120 is the number I have.
A professional crowd counting service hired by a radio station on March 25 estimated the crowd at La Gran Marcha 2006 at 1.7 million. If this is true today's march was almost 15,000 times smaller. Miniscule by comparison. Just a blip.
LAPD numbered around 100. Police presence was heavy and the Minutemen, like the KKK before them, marched with a police escort. The Minutemen acting brave and jovial behind the heavy riot police guard but I'm sure they weren't happy with the way things occurred.
Homeless advocate turned anti-immigrant token black activist Ted Hayes marched arm-in-arm with known migrant hunter Jim Gilchrist. The unusual looking Barbara Coe also marched arm-in-arm with Hayes.
Save Our State leader Joe Turner was not spotted and appeared to be absent from the proceedings.
Another strange turn saw the Minutemen marching with a banner reading "Civil Rights in Mexico".
The counter-protesters were loud and they followed the Minutemen all the way up to City Hall. At City Hall the police line was extended and counter-protesters were not allowed to get near the racist rally was taking place on the steps.
Little by little various Minutemen and their supporters made their way down the hill, across the lawn toward the side where the counter-protestors had amassed. In an apparent error in planning, porta-potties were set up on the other side of the police line right next to the counter-protestors.
Originally dubbed an American Civil Rights March organized initially by Ted Hayes, the numbers of African-American participants on the Minuteman side were very, very small.
Let's be honest, the total of all Minutemen participants was very, very small.
Photos:

http://la.indymedia.org/news/2006/05/159043.php

http://la.indymedia.org/news/2006/05/158991.php

http://la.indymedia.org/news/2006/05/158981.php

Audio Report:

http://la.indymedia.org/news/2006/05/158980.php
---
2/8 Washington DC: Call for Protest Against Minutemen Rally in D.C. with Jim Gilchrist!
Call for activist protest against Jim Gilchrist (Minuteman Project Founder) and Chris Simcox (Civil Homeland Defense Founder) for an rally Wednesday February 8 in Washington DC! >> Read More
Here's the information according to their California Coalition ofor Immigration Refform Webpage: http://www.CCIR.net
MINUTEMAN / PATRIOT RALLY
Wednesday, February 8, 2006
11:30 A.M. - 2:00 P.M.
Grass area on WEST side of U.S. Capitol Building (on First Street between Constitution Avenue NW and Independence Avenue SW), Washington, D.C.
Who: Jim Gilchrist (Minuteman Project Founder) and Chris Simcox (Civil Homeland Defense Founder).
What: Minutemen are also asking for those interested to assist in lobbying Senators and Congressional Representatives at this crucial time when the Congress debates guestworker/amnesty plans.
---
2/3 LA City Council to Minutemen: Go Home!
LOS ANGELES, February [LA IMC] The Los Angeles City Council this morning issued an official and harsh rebuke to inland and border anti-migrant vigilantes. The Council moved Item No. 7 to second position on the agenda, effectively declaring it a consent item. The Council resolved to "include in the City's 2005-06 State and Federal Legislative Program, SUPPORT of State or Federal Legislation denouncing and prohibiting the vigilante actions of individuals against immigrants along the border and within urban communities and enact immigration reform leading towards a path of permanent status for immigrants here now and wider legal channels for those coming in the future.
From the Newswire: LA City Council to Minutemen: Go Home! by Leslie Radford


2/3: No Charges In Tezcalipoca Case; Investigation of Costa Mesa mayor starts


COSTA MESA - February 3 [LA IMC] The District Attorney's office confirmed this morning that a charge filed against immigrant rights activist Coyotl Tezcalipoca for resisting police officers at a January 3rd Costa Mesa city council meeting had been dropped. The charges stemmed from an incident at a City Coucil meeting after Mayor Allan Mansoor cut off Tezcalipoca's speaking time because he asked members of the audience to stand in opposition to the city's immigration policies.

Coincidentally or not, about an hour after Tezcalipoca's press conference at the Harbor Justice Center, fellow Collective member Duane Roberts received notification by cell phone that the Mayor is "under investigation" for allegedly ordering the removal of Coyotl Tezcalipoca from the council meeting, an order which would be unlawful under city charter's own rules.


From the Newswire:
No Charges In Tezcalipoca Case; Investigation of mayor starts by John Earl
DA declines to file criminal charges against Coyotl Tezcatlipoca! by Duane J. Roberts

Report: The Upcoming Battle for Immigrant Rights (By: Lee Siu Hin)
For the past two years, the United States has been quietly pursuing its largest anti-immigrant campaign in 50 years.>> View More

---
1/21: Save Our State (SOS) in Burbank, California
[Los Angeles Independent Media Center] SOS spent a short week of hard and fast Internet organizing and used the unchallenged nightly local media exposure to their advantage. Earlier in the week Don Silva sent out an impassioned plea to his e-mail lists in which he stated, "I am asking, basically pleading with as many of you as possible to show up this Saturday." Silva's begging paid off – SOS drew their biggest crowd ever, approximately 75.

The opposition consisting of several local groups and individuals drew about 100. Two prominent groups there today were the ANSWER Coalition and the Mexica-Movement. One report on the Save Our State website placed the numbers at around 100 SOS to 150 anti-SOS. . . .
Full report with photos: SOS in Burbank by Next Move
On Saturday, minutemen came to Burbank from everywhere in Southern California, even from other states, in order to save face following a humiliating defeat across the country in their "National Day of Protest" against Mexicans 2 weeks ago. In a nationwide effort the minutemen forces managed to pull together only 700 people for those demonstrations - and were outnumbered 10 to 1 wherever they turned.
Today in Burbank, they managed to import 65 people (a little less than 10% of their national potential) and found themselves out -numbered yet again, with 100 counter protestors surrounding them. . . .
Full report: Save Our Face – SOS, Fascistic Immigration Laws + the "Thrill" of Defeat by Tecpatl
BURBANK, January 21, 2006--Minuteman Don Silva, also of Save Our State, called the showdown. He named the site--Burbank's new Home Depot. He brought in the TV crews, and radio and newspaper reporters. He pleaded with every minuteman in southern California to attend. The neo-Nazi group VDARE posted a notice of the event on their blog. Silva managed to raise sixty-five people. He lost his "battle at the black gate of Mordor," as he overdramatically called the protest, when ninety hastily assembled and loosely organized Los Angeles-area counterprotestors brought the minutemen's invasion of Burbank to a standstill.
The protestors took the northeast and southeast corners of the Home Depot entrance. The minutemen and Save Our State clustered on the southwest corner. The police claimed the northwest corner for their staging ground. The Burbank day laborers, who usually number upward of twenty-five, reportedly started the day with only fourteen on hand. The rest had scattered to the streets of Burbank to find work. . . .

Full report with photos: Racists Go Home by Leslie
1/14: Minutemen Not in Burbank
by Leslie leslie@radiojustice.net
[Los Angeles Independent Media Center] In spite of assurances to mainstream media, the minutemen stayed away from Burbank this morning. Counterprotestors braved cold and wet weather to be on hand, just in case.
BURBANK, January 14, 2006--On Tuesday, the minutemen promised the Los Angeles Times that they'd be at the new Burbank Home Depot today to protest the day labor center there. On Thursday, the leader of Save Our State, a minuteman spinoff group, reasserted that promise and again told the Times that there would "probably" be members of his organization at the site today. The minutemen didn't show up.
But Mexica Movement was there, to defend the laborers from the near-weekly assaults by minutemen across the Los Angeles basin. The minutemen, reluctant to patrol the border through the winter months, have taken to harassing day laborers in more temperate areas of the state for the season. Apparently, this morning's wet and chilly weather kept the minutemen at home.

Last month, Save Our State cancelled an announced protest against laborers in San Bernardino, citing the possibility of rain, which hadn't been predicted and didn't materialize.

---
1/7: STAND UP FOR DAY LABORERS, STOP THE MINUTEMEN
The Minutemen's immigration protests organized across the country Saturday were completely failure! They only drew small numbers, and some were outnumbered and out-shouted by those who support immigrant rights.
The so-called ``Stop the Invasion'' protests were organized by Minutemen in 19 states, demanding the government increase border security and penalize employers who hire who hire day laborers.

1/7: Few Drawn to Minutemen's National Day of Anti-Immigration Protests
1/7: Herndon, VA: Virginia Minutemen Protest

Day Lborers 2 Counter Minutemen Nationally
National Day Laborer Organizing Network (NDLON)
Read the Statement

SOUTHERN CALIFORNIA: In a massive outburst of anger and frustration at the minutemen, activists across Southern California found their local day labor hiring center and joined with day laborers to shut down the minutemen's "Stop the Invasion" national day of protest against immigration.
Fifteen groups and hundreds of activists, mostly young and of Indigenous or Mexican descent, teamed up with migrant workers at six locations across the San Diego, Orange, and Los Angeles Counties, where the minutemen had determined to hold "secret" protests. As in the rest of the U.S., the activists handily outnumbered the minutemen. Full Story: ¡NO MAS! A Day of Anti-Minuteman Protest by Leslie Radford.

Santa Monica Bourget Brothers Hardware:
See "Don't Teach Your Children Hate" by Ixachilanka for a moving and detailed report.

Glendale Home Depot:
One counterprotestor arrested in repeat showdown
In a fierce confrontation, a hundred and twenty anti-racists stood toe-to-toe with twenty Save Our State members. As they did a month ago, counterprotestors lined up at 7:30 a.m. on San Fernando Rd., with Home Depot on the north side and the Glendale Temporary Skilled Labor Center on the south, to oppose Save Our State. Counterprotestors from Mexica Movement, the International Socialist Organization (ISO), CARECEN, Answer-LA, Latinos Unidos, and the National Day Laborers Organizing Network easily surrounded the twenty members of Save Our State.
A dozen police stood by, refusing to separate the two sides in spite of requests from leaders in both camps, as the counterprotestors and SOS hurled demands and insults at each other. The tension in the groups increased palpably with the arrival of the leader of SOS at 9:15 a.m. He no sooner arrived than he rushed through the crowd, ignoring his supporters, and crossed the street, avoiding the more vocal protestors. There he goaded Mexica Movement, who, as last time, stood on the south side of the road in a determinedly disciplined line, holding signs denouncing white colonization and genocide of the Anahuac nation. While most SOS members seemed content with waving U.S. flags above signs demanding "Racists Go Home," the SOS leader repeatedly crossed the street to confront Mexica Movement and was repeatedly rebuffed and sent back to the northeast corner. By 10:15, the repeated provocations resulted in a scuffle, and one Indigenous counterprotestor was arrested on a misdemeanor battery charge. He was later released on his own recognizance.
The day laborers looked on from the center with a mixture of anger and concern, as their very existence was fought out on the street in front of them. SOS has been making monthly unannounced forays to the center to discourage employers from hiring the jornaleros.
Save Our State had attempted to derail the counterprotest indicating that their "secret" protest would be in Alhambra, but the counterprotestors weren't fooled.

Lake Forest Ganahl Lumber:
Day laborers join counterprotest, minutemen refuse work
Seventy jornaleros and six members of gente unida and Tonantzin Colectivo faced off against eleven members of Minutemen Making a Difference on the southeast and southwest corners of El Toro Road and Jeronimo Road.
Lake Forest has been the most recent point of attack by minutemen. Two weeks ago, minutemen convinced the manager of a local shopping center to file trespassing charges and have the police remove the trabajadores from the property, with sporadic enforcement since. Last week, minuteman leader Jim Gilchrist of Aliso Viejo traveled to Lake Forest and begged the city council to to crack down on day laborers in their city.
The day laborers in Lake Forest reported that people posing as employers had been inviting them to work, transporting them some distance from the day labor sites, asking for green cards, and, when the workers didn't provide them, abandoning the workers on the side of the road to make their way back to town.
In response to the attacks, the workers joined in the counterprotest, raising signs against the minutemen and shouting them down. An activist brought a 2' x 4' sign that read "Heil Gilchrist" and signs for the laborers. She stood on the corner with her message and a Nazi salute for passing motorists.
Although the minutemen managed to frighten off a few employers with their protest, most ignored the extremists and found the labor they needed. Some employers went so far as to ask the minutemen to work for them, but the minutemen consistently declined.
By the end of the rally, about fifty day laborers had been hired. The minutemen tried to explain to some of those remaining that the workers were being "exploited."
Lake Forest is a favorite location for long-term day laborers, many of whom have left the Laguna Beach Day Labor Center, where the rotation schedule prevents them from establishing ongoing work relationships with employers.

Laguna Beach Day Labor Center:
Gilchrist seen but not heard
With Minuteman Project leader and failed Congressional candidate Jim Gilchrist firmly in the rear, twenty-five minutemen faced thirty-five sharp-witted and sharp-tongued counterprotestors across Laguna Canyon Road, in front of the Laguna Beach day labor center. One counterprotestor challenged Gilchrist, but he refused to engage, instead pulling out his cell phone to make a call.
The day before the protest Gilchrist had posted a diversionary email indicating that he would be at the Mexican consulates in Los Angeles and Santa Ana during the nationwide protests, but spotters at the consulates and in Laguna Beach made sure counterprotestors weren't distracted.
Red de vigilancia contra cazamigrantes, the Tonantzin Colectivo, and straight-edge anarchists traded barbs with the minutemen from South Orange County Citizens for Immigration Reform, stopping traffic along the busy Laguna Beach busy throughway. The minutemen resorted to personal attacks on the counterprotestors' appearance, and the mostly under-30 counterprotestors retorted by mocking the minutemen's age and asking why their children weren't with them. The minutemen tried to beguile the white anarchists, but the young people steadfastly held their anti-racist ground with sharp rebuttals.
Once a Save Our State stronghold, it appears that the Minuteman Project has claimed the Laguna Beach turf for themselves, since Gilchrist's Congressional defeat in December.
The day laborers, unhappy at seeing a well-known Mexican-descent woman on the minutemen's side, tried to explain to the woman that she was betraying her ethnicity, but she was unmoved, responding only with diatribes and anti-Mexican sentiments. The woman had brought her two young daughters, whose parting gestures to counterprotestors suggested they were learning their mother's hate-filled lesson.
The laborers told activists they were grateful for the support, adding that they would be happy to have green cards if they were available. Currently, the U.S. limits green card permissions to work in the United States to 140,000 applicants, forcing 300,000 or more migrants to enter the country each year without hope of documentation.

El Cahon Home Depot:
With activists' help, business as usual
The nine members of San Diego Minutemen and USA Border Alert had lost the battle in El Cahon before it began. When they arrived at 7:00 a.m., they were met by forty migrant supporters, led by gente unida, already positioned in front of the store.
One of the cazamigrantes had brought his two German shepherds, who turned out to be friendly enough to the anti-racists. However, the dogs showed less warmth then they barked at a police officer, who demanded the owner take them home. Otherwise, the large turnout of police had little to do except watch business as usual.
The Mexican, African-American, and Anglo day laborers relocated to the side of the protest to conduct their business with employers, unimpeded by the protestors' commotion.
The outnumbered and outflanked minutemen were at the mercy of the counterprotestors, who had some fun at the minutemen's expense. Two counterprotestors engaged one minuteman in conversation, leading him across the street, only to run back to claim the abandoned corner for the counterprotestors. Another migrant supporter dogged the minutemen with a sign that read "Racist" and an arrow pointing to her target.
By 10:00 a.m., the minutemen had given up on their first foray into El Cajon, with nothing but failure to show for their effort.

Rancho Cucamonga Arrow and Grove Market:
Old enemies reunite, bring along new allies
The Pomona Day Labor Center joined up with the Southern California Human Rights Network and the Rancho Cucamonga Day Labor Center to offer up a combined force of seventy counterprotestors, day laborers and anti-racist activists, to the thirty-five members of the FIRE Coalition and Minutemen Patriots of Southern California in Rancho Cucamonga.
In a "celebrity" event, the Rancho Cucamonga minutemen brought along Italian immigrant Luca Zanna, composer of the "Minutemen Song," and talk show host Terry Anderson, to shore up their meager attendance.
The minutemen's signs had a fiercer tone than at a protest at the same location earlier this year. This time, the minutemen demanded the migrants, "Go home" and proclaimed "Viva la migra." Counterprotestors held up "Working is a human right!" and "Resist white supremacy." At the earlier protest, amplified sound had been prohibited, but the minutemen had brought along a microphone and amplifier, so the pro-immigrant protestors rushed to grab their bullhorn.
The minutemen were unprepared when the day laborers joined forces with the activists.
One laborer mounted a small bicycle and rode past the minutemen, using the bullhorn to yell at the invaders, to the cheers of his compadres. When he rode back, again blaring at the minutemen, a police officer ticketed the man for riding against traffic. One counterprotestor walked over to observe the citation and asked what the ticket was for. When the cop refused to tell him, he declared, "I have a right to know." The cop responded, "You don't have a right" and added "Do you want a ticket? Do you want to be part of my investigation?"
The minutemen shouted that the day laborers should "learn English," while the laborers taunted the minutemen with "gringo" and "puerco." Trabajadores and counterprotestors hollered and made noise to drown out the minutemen's PA-amplified taunts.
In sum, across the southland, the people shouted to the minutemen, "¡No mas!" People angry and tired of the minutemen's incessant denigration of poverty-level workers, of their racist diatribes against those indigenous to this country, and of their unrelenting scapegoating of all people of Mexican descent, joined forces to crush their "national day of protest." With the increasing participation of the jornaleros themselves, in brave defiance of their vulnerability to persecution and prosecution, the minuteman's day in the sun is ending.
It remains to be seen if the damage they've done to current and future migrants can be undone.
With assistance from Vicente, Rocio, Enrique, Daniel, Juan, Mike, and Olin. Top photo courtesy of Glendale Resident.

Also from the newswire: Mexica Movement Turns The Tables on Save Our State Rally by John Q. Bystander || Santa Monica Counter-protest: Don't Teach Your Children Hate by Ixachilanka || SOS is Opposed in Glendale, Again. & SOS fakes Alhambra Rally By Next Move.

Xenophobic Vigilante Groups hold January 7th Actions
(San Farncico IMC) Day workers across the country plan a campaign of peacefully responding to coordinated vigilante actions organized by Connecticut Citizens for Immigration Control and local cells of the so-called "Minutemen." Groups like the Minutemen and the Federation for American Immigration Reform (FAIR) have been focusing their attention on day laborer centers. Day workers across the country plan to respond to the coordinated vigilante actions organized by Connecticut Citizens for Immigration Control and local cells of the so-called "Minutemen." There is such a day of action scheduled for January 7th. List of January 7th actions on CTCIC website
The National Day Laborer Organizing Network (NDLON) reports that the recent wave of attacks is nothing new to the day worker community. Throughout 2005, similar attempts to incite violence and generate chaos against day laborers were experienced in Phoenix, AZ., Herndon, VA, and elsewhere. In Redondo Beach, CA, Joseph Turner, founder of Save Our State, encouraged members of his group to bring baseball bats, noting "if we're lucky, we're gonna need them."
The NDLON says that the actions of vigilantes are motivated by, and an inspiration to, hate groups and white supremacists concerned about the changing demographics in our communities. At a recent event in Herndon, VA, a man "patrolled" a day labor corner with a t-shirt that said White Pride. "Under no circumstances can vigilante action be accepted in a civil society," said Salvador Reza, Executive Director of Tonatierra in Phoenix, AZ. "It is our obligation to shine light on their dark motives" he added.
The NDLON says that wherever militia and paramilitary actions target day laborers, the workers and their supporters will counter them with peaceful, non-violent resistance. The network of day laborers and their supporters says that it will monitor, photograph and film the Minutemen and similar groups in order to document and prevent violence and hate crimes; defend the areas where day laborers congregate to solicit employment in order to feed themselves and their loved ones; and work to spread a message that honors the migrants and denounces the vigilantes' hatred and xenophobia. Read more
National Day Laborer Organizing Network
* 1/5 Southern CA Call to Action: In a massive response to racist persecution of migrants, racial profiling and worker oppression, counterprotestors will be rallying to oppose Minutemen protests at four Southern California day labor locations California on Saturday morning, January 7 at 7:30 a.m. >>> Read More

---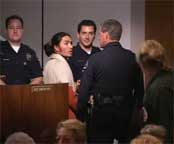 1/18 Costa Mesa, CA: Free Speech or Disorderly Conduct? Debate over the Coyotl Video

[Los Angeles Independent Media Center] January 18, 2006, Was Coyotl Tezcatlipoca denied his free speech right to address the Costa Mesa City Council? Was he unlawfully removed from the council chambers and arrested? Or was his conduct disorderly and disruptive to the council proceedings? The controversy is fueled by a video of the incident posted to this site and elsewhere on the internet. The video has caught national attention and sparked debate on free speech rights. Free speech advocates have filed formal complaints against the city.

From the Newswire Costa mesa City council hears protests of The community by Abraham Appel || Letter of complaint filed against Costa Mesa Mayor & Letter to the editor about Costa Mesa Mayor by Duane J. Roberts || OC police clamp down on immigrant-rights activists by GUSTAVO ARELLANO

1/5: Costa Masa, CA: Activist Was Arrested During the City Hearing Against The City's Decision to Deputize
Police Officers
On Tuesday, January 3, approximately 100 people, including members of the Tonantzin Collective, converged upon the Costa Mesa City Council's decision to train city police to enforce immigration law. During the last council meeting, Coyotl Tezcalipoca, a member of the Tonantzin Collective, was arrested during public comments. After innocently requesting the audience to stand up in support of immigrant rights, Mayor Allan Mansoor cut him off before his time was up. Before he had a chance to leave the podium, several police officers surrounded him and forcefully took him into custody, violating his right
to free speech and assembly. >> Read More
Mexican Activist is Beaten & Brutalized by Costa Mesa PD
by phuk minutemen Wednesday, Jan. 04, 2006

TV Cameras catpure and broadcast footage of Costa Mesa PD beating, dragging, and brutalizing Mexica Activst while speaking out against anti-immigrant policies
Tuesday January 3rd, activists from the Tonantzin Collective spoke out at the Costa Mesa City Council meeting voicing extreme distress and concern over their anti-immigrant policies.
During this protest, one of the founding members of the collective spoke up in during his comments to the council, at which time Costa Mesa Police Department to tackle, drag, grab by neckhold, kick and beat activist, dragging him outisde the chambers, ALL while Channel 34 News cameras were recording, and in front of dozens of screaming and horrified witnesses including crying women and children.The activist, known as Coyotl, was taken into custody, then transported to the hospital and released from custody at approximately 1 a.m. from CMPD with 3 Misdemeanor counts filed against him, and injuries yet to be disclosed.
Please note that the author of this news brief was not present at the time of this event, and is only reporting off of the news coverage viewed live from Telemundo News Van / Cam, ABC 7 Eyewitness News, CBS 2 News, and other mainstream news network all present at the court and jail house up until or after 11pm who were still waiting for word on Coyotl's release or condition.
It is important to mention that all of the above mentioned newscasts, including 2 other news vans, broadcasted several live reports thru out the evening on this event, repeatedly showing Coyotl being brutalized as described above.
It is furthermore worth mentioning that the same city council meeting and event was visited by several bullhorn equipped Minutemen who were there to applaud Costa Mesa City for their recent change in policies that would train all police officers with special immigration service procedure and initiate intensified scapegoating of all Mexican appearing residents.
1/5: Brief report regarding Costa Mesa Mayor Allan Mansoor's illegal & unconstitutional attack on OC activist
1/3 Costa Mesa, CA: Protest against The City's Decision to Deputize Police Officers
By Duane Roberts
On Tuesday, January 03, 2006 concerned citizens forming a collective called Tonantzin will converge upon the Costa Mesa City Council in protest of the City Council's decision to train city police to enforce immigration law. >>> Read More